Buy Green tea, White Tea, Oolong tea, Pu erh Tea, Black tea, Tea Pots, Tea Cups &Tea Ware
The concept of tea culture is referred to in Chinese as chayi ("the art of drinking tea"), or cha wenhua ("tea culture"). The word cha (茶) denotes the beverage that is derived from Camellia sinensis, the tea plant. Green tea, White tea, Oolong tea, Pu Er tea and Black Tea are the healthiest beverages on the planet. they are loaded with antioxidants and nutrients that have powerful effects on the body. Here are 86 scientifically confirmed reasons we should all be drinking green tea.  that have been confirmed in human research studies The teas considered to be the best Chinese teas are:  Fujian Tieguanyin, Lushan Yunwu, Yunnan Pu-erh, Keemun Black Tea, Da Hong Pao, Xinyang Maojian, Lu'an Guapian, Huangshan Maofeng, Dongting Biluochun, Xi Hu Long Jing. If you're not sure just where to start then we suggest Xi Hu Long Jing for green tea drinkers and black tea drinkers possibly Da Hong Pao, Yunnan Pu-erh, Keemun black tea or the more exotic Jin Jun Mei and Xun Zhi Lapsang Souchong teas.
Ho Yan Hor Herbal Tea
HYH001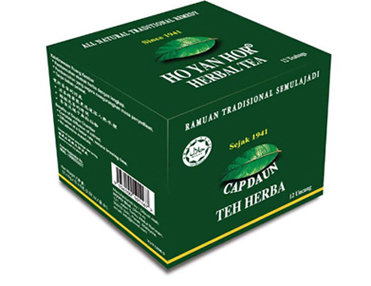 Ho Yan Hor Herbal Tea
The history of Ho Yan Hor began way back in 1941. Dr. Ho Kai Cheong, the founder, graduated from China`s Canton Wah Lam National Physicians School. With his passion for herbs and the knowledge acquired, he embarked on a journey of discovery leading to the famous Ho Yan Hor Herbal Tea remedy with 23 kinds of herbs.
A special concoction of 23 natural herbs blended with black tea. It is commonly used by households in Malaysia to fight common cold and flu. Manufactured according to stringent pharmaceutical standards, hygienic, pesticide and contaminant free. Comes in a combination of herbs that provides anti-viral, anti-bacterial, anti-inflammatory and anti-oxidant properties.
Drink twice daily for three days at the first sign of common cold for a safe and natural healing.
The base of Ho Yan Hor Herbal Tea is made from black tea which derived from a shrub called Camellia sinensis. Black tea contains alkylamine antigens that help boost our immune response. Additionally, it contains tannins that help to fight viruses and keep us protected from influenza.
Known as Chinese licorice, it is an extract prepared from the sweet-tasting dried roots and underground stem of a shrub that grows in subtropical climates. It has been used to treat heatiness, coughs, colds, arthritis, constipation, and to promote healing of stomach.
Main herb used in Chinese medicine for diseases of the lungs and throat and is commonly used for inflammatory conditions of the eyes, ears and sinuses. The herb has strong expectorant and antitussive effects and is included in many cough formulas.
Unit packing: 1 x Box